About my running: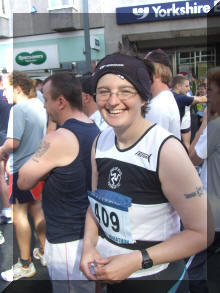 I watched the 2004 London Marathon on TV. I have always said, since I was 18, that one day I would run a marathon. I was amazed to see "ordinary" people of all shapes, sizes, fitness and ages running 26.2 miles for charity. It completely inspired me! I thought, "if they can do it, so can I."
Next day I bought a pair of good trainers and took my first tentative running steps outside, incredibly embarrassed and self-conscious in case anyone recognised me. I managed about 200metres running and then stopped to walk. Doing this I completed my first mile – not far, slow and painful, but I had enjoyed it.
I then began to build up the distances, times, fitness, and I ran my first marathon in June 2005 in Edinburgh. I am trying to get into London but after 3 ballots I have failed to get a place. Maybe 2008? I have now run a total of 6 marathons and loved every one of them. They are hard, painful and exhausting, yet the achievement is tremendous, as well as the support of the crowds.
On Nov 5th 2006 I joined a running club called IOMVAC – IOM Veteran Athletic's Club.
What to do next:
Now that the marathon distance has been done, I am looking for new challenges. I have come across "ultrarunning" or "ultramarathoning". Basically it is running any distance above the marathon i.e. from 30 miles to 6,000 miles. When I started reading about these ultra distances, I was fascinated about the races and the people, like Dean Karnazes – the Canadian ultrarunner who has run the furthest distance non-stop, approx. 300 miles.
I have the DVD called "Race of Fire" showing the inaugral Trans-Australia Footrace where 25 competitors, including Bob Brown, ran 3,000 miles in 65 days across Australia. Again I was truly inspired – what if I could run an ultra? Well, that was it! I was now becoming an ultrarunner.

Training began to increase up to 50 miles a week running, and off-road running and hill running was incorporated. I discovered the ambitionevents.com website and ran two cross country half marathons called "Tough Challenges" (see panel, left). I met the race director, Rory Coleman, an inspirational runner who has run over 540 marathons and 150 ultras and holds 9 Guinness Book of Record titles for distances run on a treadmill! I had discovered my true passion in life – not speed, but endurance.
I want to run and run. I want to discover my true self, push myself to my limit physically and mentally, and achieve my dreams whilst raising money for people less well off than me. I looked at the MOB Coast (Marathon Of Britain Coast) link on ambitionevents.com and decided that was for me! I would try my first ultra 12th-14th July 2007; 105miles in 3 days.
Running History