The HULL 24 Hour Track Race
East Hull Harriers presents:
24 HOURS
This race takes place in Costello Stadium, Hull from 10am Sat July 11th 2009, finishing at 10am Sun July 12th. The run is on a 400-metre all weather Tartan track under UK Athletics rules.
The big question is: How far can I run in 24 hours?
My aim is to break 100 miles.
The winning lady in 2008 managed 100 miles. Can I go further?
Watch this space.....
Bethany claims 2nd female in 24 hour run.
On Friday 10th July my two best friends, Ernie and David, travelled to Hull with me for the Hull 24 hour track race at the Costello Stadium. For me it was my first long-distance track race; running round the 400 metre athletics track for 24 hours starting at 10am on Saturday 11th July. Ernie and David were supporting me with food, drink, plasters and clothes as well as helping to lap count some of the 39 runners.
On Friday evening we put up our small tent to give us some shelter during the race. On Saturday I signed on at 9am and met the doctor who would be looking after us runners. I had a pre-race massage and was told my legs were in excellent shape despite running 100 miles 2 weeks previously.
The race started at 10am prompt. There were 13 women and 26 men. Most runners had run a 24 hour race before. Many, like myself, hoped to break 100 miles.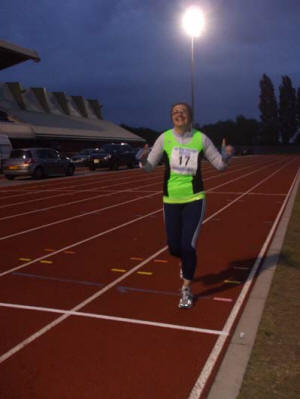 The leading male at the start was running for England in the 24 hour race in Keswick in September, as was the overall winner of the race – a lady called Angela who ran 121 miles – so both were taking it slowly!
I started at quite a fast pace, like everyone else. Soon the field spread out and I began lapping runners. It was very hot and humid and soon there was a water hose out to drench us with cold water in order to stay cool. It was lovely! At 2pm we changed direction to run clockwise. Every 4 hours we would do this. I never found the race boring though as the camaraderie was brilliant and I chatted to lots of the runners during the race. I tried to eat plenty of cereal bars, bananas,jam sandwiches, porridge with sugar, kendal mint cake as well as water and hot sweet tea.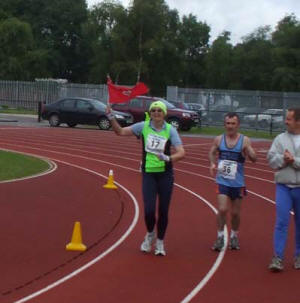 The laps began to build up. Every hour a scoreboard showed the rankings. I was never placed lower than 4th female and 20th runner and as the miles went by I worked my way up the board. It went dark at 10pm and then the rain started. Every ultra I have done the weather has been awful and this race was no exception! It poured down with heavy rain for 7 hours! We were all soaked! The marquee nearly blew away in the wind and I got so cold by 5am I spent half an hour changing into dry warm clothes.
After 22 hours and 18 minutes I reached 100 miles! I ran round the track holding the Manx flag high and was applauded. It was amazing that I ran this far as I was so sick at 85 miles and ran out of energy that I was going at snail's pace. I was second lady and the third lady had reduced the gap from 22 laps to just 4.
At 10am Sunday the bell sounded. I stopped at my 'own personal finish line' and drew with chalk my finish line and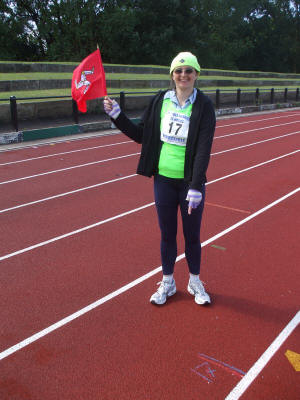 race number for them to measure exactly how far I had run – 104.5 miles! I was exhausted and my feet were so sore. Ernie carried me back to the tent! I cried with tears of joy, relief and fatigue. I had come second female out of thirteen and sixth overall. I was awarded a trophy which I will treasure forever.
We arrived home on Monday and I have been resting. I have lost 6lbs in weight but that will go back on soon. Again John Barton from the Crosby Clinic has re-aligned my back and massaged my tired legs. My feet and the chafing are healing. I have 3 weeks to recover before I run, as a practice with fellow runners, days 11 and 12 of JOGLE, from Wales to Devon, a total of 104 miles in 2 days. I am so proud of what I have achieved and really enjoyed the experience. Many thanks to all the helpers during the race and my amazing support guys, Ernie and David, who kept me going when it got so tough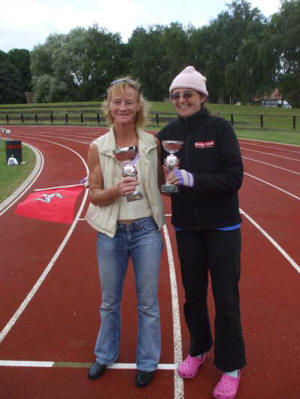 during the last 20 miles.