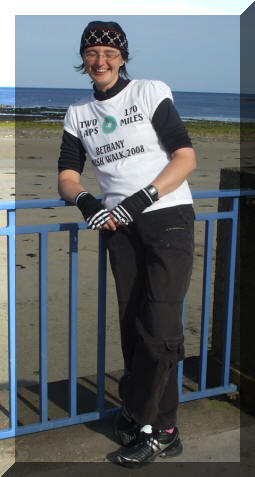 "Thursday's Child has far to go!" I was born on Thursday November 4th 1971. Perhaps that explains my passion for long distance running and walking.
I watched the 2004 London Marathon and vowed that I would run it the following year. It inspired me to put my trainers on and run. However after shuffling along for 200 metres because I was very unfit and slightly overweight, I realised it would be no easy task!
1997 saw me move from Manchester to the Isle of Man to 'get better'. For 2 years I had had horrendous problems with stress and spent a year in a psychiatric hospital battling with extreme self-harm, anorexia and severe alcohol abuse. I hated myself, my life and everyone in it. The next 7 years saw myself gaining weight, stabilised on medication, controlling my drinking, divorcing my husband and being able to live independently.
Running and walking have changed my life completely. They allow me to cope with stress and look and feel good about myself. My weight is normal and I am fit, strong, healthy and happy. I have not been in hospital since exercising regularly. I now use a powerplate machine to build strength and have a toned, lean, well-defined body.
The Parish Walk
This is an 85-mile non-stop walk round the 17 Parish Churches on the Isle of Man in less than 24 hours. Walkers can finish at any church along the route. Many stop at Rushen (19 miles) or Peel (32.5 miles). The race has taken place on the solstice weekend for many years and now has about 1,500 walkers competing with about 150 finishing the 85 miles. It is a true test of fitness, stamina and endurance and the ability to work well with a support car and crew.
My Parish Walk History
In 2003 I walked to Rushen (19 miles)
In 2004 I reached Peel (32.5 miles)
In 2005 I finished the 85 miles with my mother in 23 hours.
In 2006 I finished the 85 miles by myself in 22.5 hours.
The 'Double' Idea
In 2006 I raised money, as usual, for a charity. A friend sponsored me £10 per lap. I laughed at the thought of 'laps' in an 85-mile walk. However the seed had been planted in my brain and over the next 12 months I began to think – would it be possible to walk two laps totalling 170 miles? Would it be possible to walk it under 48 hours? Would I be able to do it? After discussing the idea with the Race Secretary I decided in last year to attempt it in 2008 and to raise money for the 'Hyperbaric Chamber' on the IOM.
My Training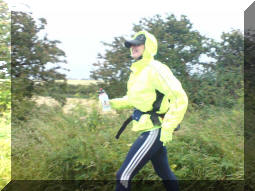 I cannot manage routines so I don't have a training plan. I train when I want to and if I feel okay. I am good at listening to my body.
Physically I built my strength in my arms, legs and core muscles using a powerplate machine. I incorporated several long runs and walks of 20-30 miles into my training with short fast races to build up speed and add variety. I trained on the roads of the Parish Walk route. In 8 months I covered 1000 miles with 20 races from 5k to 50 miles, in which I achieved personal bests in all of them! My bodyfat % dropped from 26 to 22%, I was very hydrated and sustained no serious injuries.
Mentally I use positive affirmations and a lot of visualisation. I wrote encouraging words down to wear round my neck in a plastic folder to help me. I publicised my 'two laps' and had several radio interviews and photos taken. Most people thought it would be impossible to walk 170 miles and that I was totally crazy.
I organised a wonderful crew of friends working in shifts to support me over the 2 days. I had crates full of water, food, clothes, trainers, a 'foot aid' box as well as medication etc. I prepared for every eventuality.
The weekend arrives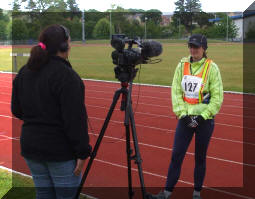 On Saturday 21st June 2008 at 8am the gun signalled the start of the race from the 'National Sports Centre' in Douglas. I was very excited and a bit nervous. I was dismissing the thought that it would be Monday morning before I next went to sleep. Lots of walkers wished me good luck, including Chris Moon, an amazing ultrarunner, with a prosthetic leg, who would go on to finish the 85 miles.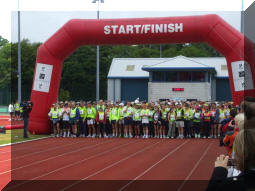 The weather deteriorated rapidly, as was forecast, and soon it was very wet, windy and cold. It got no better until the night and was to be the wettest Parish Walk ever! I was dressed for the Arctic, though, but many walkers were not and lots retired early.
My support, Alvin, joined me after the steep hill called 'Ballakillowey' (20miles). I changed my soaking socks and trainers and began the long climb up the 'Sloc'. The weather was horrible. Severe gusts lashed heavy rain into my face and my fingers were numb with cold. I marched as fast as I could to get down the other side near the west coast, where the wind would ease. I was well ahead of my predicted time.
The rain turned into a monsoon near Bride (52 miles) and I stopped in Andreas (55 miles) at a friend's house to remove my soaking wet clothing and trainers, to put on warm dry clothes and shoes, as I was very cold. After a cup of hot tea I felt much happier and marched onwards, with my support Ernie, into the night.
It was very misty down the east coast. I did not realise my blood sugar was low. I had not eaten enough during the walk so far and was snapping at Ernie, felt tired and was slowing down slightly. On the second lap I began to feel when my sugar levels were dropping. I finished lap one, and in a personal best time of 20 hours 56 mins. I was on schedule and was upset that nobody seemed to care that I had a PB. People were shouting at me to start the second lap when all I wanted was to have a rest!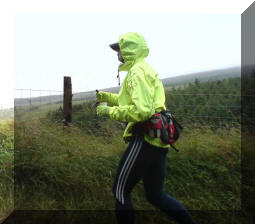 The next 20 minutes were crazy. A felt very sick and almost collapsed during the interview with the BBC film crew. After changing my shoes I left the war memorial at 5.20am on the Sunday, to head out of Douglas. My crew, Jon, told me I had to eat. I tried to swallow a rice pudding but started to retch. I knew if I was sick the walk was over. I kept it down and struggled to swallow a pasty. After a few minutes I changed to cold creamy mashed potato which went down better than solid food. I also ate bananas and Jon bought every yoghurt in Ballasalla Stores. At Santon (96 miles) my parents were there to cheer me on. The food was working and I felt very energised, happy and confident I would finish.
I got my first blister at 92 miles. I lanced it, drained it, sprayed on iodine to clean it and covered it with a transparent bioclusive dressing. I was to get 3 more blisters. My heels were sore but once I was walking at speed the pain was okay.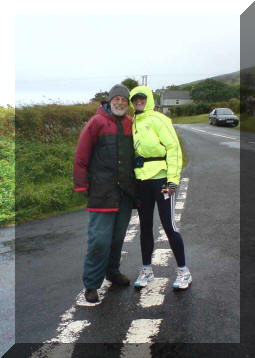 After Malew Church (100 miles!) Dawne gave me a leg massage at her home on the route. She was amazed at how well my legs were doing. They were very cold in the wet running tights and I think it was like having an ice-pack on them! The weather was dry but windy and cool.
I was drinking water and also energy drinks made with isostar tablets. I drank one dioralyte sachet in water every 15 miles. This gave me salt and other electrolytes and I never suffered cramp.
It was very quiet on the roads down to the south. A few people came out to see and cheer me on. At Rushen (104 miles) Gareth took over the support. He is an experienced ultrarunner and was amazed as to how well I was looking and walking. I was well ahead of schedule.
Manx Radio phoned me and I did a live interview before the 'Sloc'. Suddenly cars were beeping their horns as they passed by and people were stopping to cheer me on. For the rest of the way the support from Manx Radio and the IOM people was phenomenal. Over £1,000 was collected in the support cars for my charity. It really helped to keep me going.
The 'sloc' was very misty and the wind was very strong and gusty. It was better than the previous day though! I was still eating and drinking constantly. I reached Peel (117 miles) to meet and chat to my family for a few minutes. I felt on top of the world. I worried that I was making it look too easy!
Several racewalkers cheered me on and walked with me. The winner, Jock Waddington, was there to support me. I was so honoured to have these people come out especially to be with me. Robbie Callister, five times winner and had finished second to Jock, walked with me and could not believe how well I looked, how fast I was walking (4mph) and I was talking ten to the dozen, (as usual!)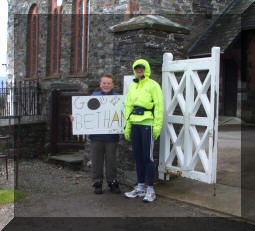 After changing into clean clothes in Andreas again (140 miles), I left the 100 or more supporters cheering me in the streets and headed into the night. Manx Radio had devoted their evening show to my walk and were telling people where I was. My support crew, Ernie and David, were doing live radio interviews every few minutes. It was crazy! When I walked through Ramsey (147 miles) at midnight there were 200 people waiting to cheer me on. It brought tears to my eyes. I could not now not finish – I would let so many people down. The whole island was wanting me to finish.
The Painful Last Few Miles
I began to feel very sleepy tired. I had been awake for more than 40 hours and desperately wanted to sleep. A support car drove behind me for the last 25 miles as it was dark. The country lanes were lit up as tunnels and I began to hallucinate. The ferns blowing in the breeze were colourful, detailed people, dogs, children, even the 'Queen of Hearts', waving at me. The road through Laxey was an Egyptian mosaic!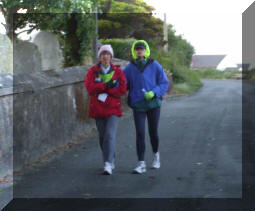 My friend David walked with me to keep me awake. Then my Mum took over and she was magnificent in keeping me going: one foot in front of the other! She talked to me about anything to distract me from the severe sleepiness. She linked arms with me as my balance was not good. I could not think, talk or even smile for photographers as I was so tired. I lived on Kendal mint cake as I needed raw sugar. I could not eat anything else. The diarrhoea was extremely embarrassing – my body was giving up. Physically I was fine; feet and legs were good, back was upright and I could walk well. But I was so tired and getting slower. The downhills were painful for my knees. I began to panic I would not make it under 48 hours. I was walking at 3mph by now.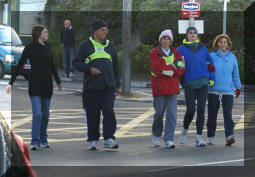 The sunrise was beautiful but I could not see it. I was concentrating all my energy in staying awake and walking. The three local radio stations started up again at 6am and were telling people I was in Onchan (168 miles). People were again cheering and clapping me, even in dressing gowns and slippers! As I walked through Port Jack (169 miles) a green leprechaun smiled at me and I knew I would finish, (it was actually a plant!) I followed Ernie's car down the promenade. I had an hour to reach the finish. I could do this!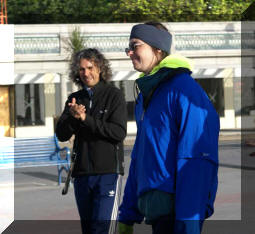 The last mile was excruciating. I was going at 2.5mph and it took so long. The last 20 metres I walked by myself into Ernie's outstretched arms. It was such a relief to stand still. I could hear lots of noise; people clapping, cheering, rattles going. I had finished! I had become the first person ever to complete TWO laps (170 miles) of the Parish Walk in 47 hours 22 minutes.
Bending my knees and sitting down in my Dad's car was luxury. I was too tired to talk but I was so relieved, happy, satisfied and proud of myself. The publicity and attention afterwards was very hard to cope with and I am a 'celebrity' on the IOM. Everyone is so proud of me and amazed at my achievement. I felt honoured to have united the island with my challenge.
I Did It
I recovered very well and very quickly. Apart from a slightly mis-aligned back, which has been treated, some numb toes and feeling exhausted, I have no lasting problems.
I have raised so far £5,400 for the Hyperbaric Chamber! I had 8 sessions in the chamber afterwards as part of my recovery.
I showed people that if you have a goal, have the determination and put in the physical and mental training and are organised, anything is possible. It still seems like I dreamt the weekend. It was like a fairytale – I became the 'Forrest Gump' of Parish Walking!
Bethany Clague
Double Parish Walk Finisher
June 2008