The Syd Quirk Half Marathon
This half-marathon took place on Sunday 4th November round the South-East of the Isle of Man. This year it coincided with my birthday! The race starts outside the 'Viking Pub' in 'Castletown' and runs north past the airport, through Ballasalla and south to Ballabeg. A left turn takes you onto the Castletown Bypass and then left again into Castletown. Two laps are run with the race finishing round the Ronaldsway Industrial Estate. It is a slightly undulating course and is fast. This year the Police helped us negotiate the roadworks near the airport.
I had sprained the outside of my right foot in the Glen Roy fell race on Oct 20th and had received 6 sessions in the Hyperbaric Chamber in Douglas. My foot was much better and I was in good shape after setting a PB for an 11-mile training run I do around Marine Drive. I felt confident and determined to set a PB! I had 2 hours 7 mins in my sights, (my previous best for the Syd Quirk 2005 was 2 hours 8 mins.)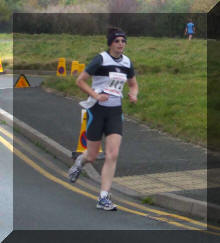 At 9.15am the walkers set off. The weather was perfect – not too cool and dry, although it would later drizzle. At 10.15am I set off with the runners. The pace was steady and I followed a group of runners who are faster than me, but I thought I'd stay near them for as long as I could. After a lap all but 2 of those runners has disappeared from view. I had a couple of 'bad' spots where I thought I was running too slow, but I hung onto these two runners and soon the strength returned to my legs. I passed these runners and two more, before turning into the Industrial Estate. From there it was easy. Just keep the arms and legs going and sprint! I knew I had a PB, so all I needed to do was finish. You pass the finish and carry on for a short while before turning to run back to the finish. In 2005 this had surprised me and I had stopped, thinking I had finished, whilst everyone was shouting at me to keep on running!
I crossed the line to shouts of "Happy Birthday" and "well done, birthday Girl!" I had done it – knocked 17 mins off my time to set a new half-marathon PB of 1 hour 50 mins 40 secs! I was delighted and so were my 2 best friends; Ernie and David, who met me at the finish. I felt like a "proper" runner now, sub- 2 hour and averaging 8.4 minute miles! I also had 17 bets placed on me for credits from runners using wwwfetcheveryone.com, so gave them lots of new credits!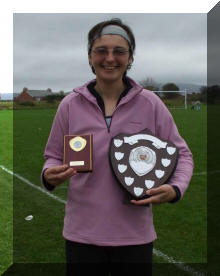 The prize presentation was held at Malew Football club. The buffet was delicious! I had a well-deserved cup of tea, followed by a well-deserved cider! The volunteers including marshals, timekeepers, water station officials etc were thanked. I won 1st lady vet 35 – a plaque. I was delighted! I don't win much in running races. Then they announced the winner of the 'Merit Shield'. I thought it went to an official or volunteer, not a runner. The Chairman started off by saying, "and the panel of judges has decided to award this to a young lady who has knocked 17 minutes off her PB." I looked at David and thought – no, it can't be me! Then he continued, "it is also her birthday." I was stunned – IT WAS ME! I have never won anything like this before ever. I went up and collected the prize to applause. I later found out that my many articles written for the IOMVAC newsletter helped in me the prize as well. Previous winners include 2 "mature" runners, a man who beat cancer and a runner who collates all the results for Syd Quirk after he finishes competing in the race!
The photo of the shield and plaque are on the website. I am so proud and it was the best birthday present ever! A combination of serous training averaging 50 miles a week with a 10lb backpack, and weight loss, produced a fast run. It has inspired me to run more and faster. I showed the staff at the Hyperbaric Chamber the shield and they were delighted. I will get it engraved soon, if I can work out a space to put my name! I can keep it for a year!