My Promenade Runs
Introduction:
It was my intention to run 100 lengths of Douglas Promenade over 3 days from Thursday 17th December 2009. However illness scuppered my good intentions!
So now, as I am better, I will run an alternative: 156 miles along six promenades over 6 days.
I hope to start on the Monday 15th February and finish on the Saturday 20th February.
The timetable is:
Monday 15th Feb Port St Mary
Tuesday 16th Feb Port Erin
Wednesday 17th Feb Peel
Thursday 18th Feb Ramsey
Friday 19th Feb Laxey
Saturday 20th Feb Douglas (16 lengths).
I will be dressed as a viking lady and will run - weather permitting 156 miles in 6 days.
I am raising money for Friends of Star Club, a clubhouse in Derby Square, Douglas.
It provides help, support and activities for adults with mental health issues.
There may be collection tins in every IOM Bank Branch to collect money from the public.
If you see me running or collecting please give generously - thankyou.
The two photos below show me in my costume to run as a Viking Lady.
Hopefully the weather will be kind as it is not very waterproof!!
DAY ONE: Monday 15th February
Left the house at 7.10am. Parked by the Shore Hotel and was running by 7.50am. I was wearing my costume but the cold brisk southerly wind left me freezing. I ended up wearing my yellow jacket over it. Running from the Shore Hotel to the Happy Valley Landslide was about 1.5 miles. That meant lots of laps. I was amazed at the number of dog walkers along the footpath, not to mention every seagull on the island was in Port St Mary Bay. I had a lovely run, despite the cold and the rain. Sarah Goldsmith made it even more enjoyable with a hot cup of tea and a chat after 18 miles. At 24 miles a lady came up to me and asked me what I was doing. She was amazed - another member of the Bethany Clague Fan Club! The last few steps were bliss - 26.2 miles done in 4 hours 55 minutes total. I drove home to go to bed and then eat. My feet were sore but everything else was fine. Wonderful - day one completed.
DAY TWO: Tuesday 16th February
Left the house at 7am. Was running in a cold Port Erin by 7.40am. The sky got black but moved across to the Irish Sea. I was not wearing my dress, I wore my jacket. I wore my viking hat until it rained. I had a label on my back advertising the run today. At 3 miles my vision got distorted - like tunnel vision. I thought I may have a migraine but there was no pain. I then thought maybe I was low in sugar as I suffer from hypoglycaemia because I do not eat enough. I ate some cake and drank an energy drink. Within 10 minutes my vision was fine. I made sure I ate plenty - bananas and cakes. I found it easier to run than walk and ran the entire way. There was a little oasis in the 0.65 mile of Prom. Enid Watson, a fellow walker, took time to give me some tea. Again the last steps were bliss as I danced with my success - 26.2 miles in 5 hours total. Wonderful - day two completed.
DAY THREE: Wednesday 17th February
The day dawned with blue bright skies and a frost. I had a small lie-in and was running by 8.15am. Again I wore warm clothes
as the cold was bitter but my viking hat caused a lot of comments. It was a lovley day running along the promenade and then around the harbour with the new marina. I varied the direction of running round the quay and soon the miles were building up. Enid was working in the 'Peel Charity Shop' and brought me a cup of tea in the morning. At lunchtime Sarah gave me a cup of tea and we walked round the harbour chatting for a while. I was running all the way and at 24 miles Ernie joined me at the harbour to see me finish and take a few photos. The sun was still shining with blue skies lighting up a wonderful harbour. I finished the 26.2 miles in 5 hours 5 minutes total. Ernie and I had a pint in the 'Creek Inn' and then I went home for a sleep, before going to the Ash Wednesday Service at Church. A great run on a great day!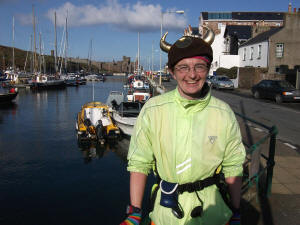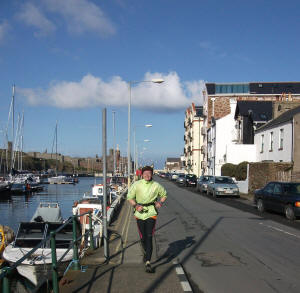 DAY FOUR: Thursday 18th February
It was a frosty morning with overcast clouds and very cold. I left the house at 8.30am and drove along the Coast Road to Mooragh Promende in Ramsey. I started at 9.30am and ran from the Grand Island Hotel to Queens Pier, through Ramsey, which was just short of 2 miles. My legs were fine but my feet were sore - no blisters but just where I pounded the uneven Promenade surface. I was eating regularly - fruit loaf, banana and milky bar chocolate. I had plenty of water and an energy drink. The sun eventually struggled to come out and the mist lifted off the mountain in the distance. By 1pm there were lots of families in the park and walking dogs along the promenade. I had no support today so it was long and lonely. My music headphones helped break the monotony of the run. I finished in 5 hours 10 minutes - a great time for my fourth consecutive marathon. I felt really good and had the whole evening free to recover. An early night for me!
DAY FIVE: Friday 19th February
Laxey and I did not want to run. I was so tired and my feet so sore. There was a couple of centimetres of snow on the ground but it was not icy so I could run. The only problem was the promenade in Laxey is only 400 metres long. Therefore I ran up the river to Laxey Woollen mills and back which was 0.7 miles. I soon found the slight uphill running a problem and the short steep downhill run at the bottom of Old Laxey was painful on my tired quad muscles. I really did not want to run. My Mum with my baby nephew came and gave me a cup of tea and some food. The sun was warm when it shone but cold when it was cloudy. The snow soon melted and at 10 miles Ernie met me. We had a pint in the Shore Hotel and I met some guys who gave me money for the charity I was collecting for. The break with Ernie helped me and I finished the marathon in 5 and a half hours total. Laxey Promenade got very busy by 2pm and one elderly gentleman was fascinated in what I was doing. I drove home and had a rest. After tea I had an hours sleep and at 6.20pm Ernie and I drove south to start our pub crawl. We went round the pubs on Port St Mary, Port Erin, Peel, Ramsey and Shore Hotel in Laxey - about 20 pubs. We raised £380 in total. £300 will go the the 'Friends of Star Club'. We arrived home at 10.30pm exhausted but elated. The pub drinkers had been so generous and interested in what I was doing. Alot of them knew me from the Double Parish Walk. It was an amazing evening. I slept well.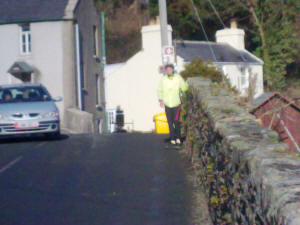 DAY SIX: Saturday 20th February
The snow laid 5 cms thick on the ground but it was not icy. I left the house at 9.30am and ran down to Douglas Promenade. The Prom was wet up to the war memorial and then snowy to the sea terminal. It was a good day - the skies were blue and sunny with a few clouds. It was cold but soon I had discarded the scarf. An IOM Newspaper Photographer took my photo near the war memorial. Later Ernie gave me a cup of tea and then my Mum did. My friend David met me and we walked for a while chatting. I was tired but the rounds of applause from people helped, as did the hug from a stranger on the Prom. I do not think I have done anything unusual - it seemed too easy. The miles went by and I chatted and ran with a couple of racewalkers. At 24 miles I phoned Ernie to tell him I would be finishing in 20 mins - sure enough after 5 hours I reached 26.2 miles. I was elated! I could not believe how good I felt - sore feet and all. We celebrated with a bottle of champagne. I will be pub crawling this coming saturday for the charity I am raising for. I hope to raise £500. Ernie and I were hoping to collect money this evening but we were both too tired. I slept very well knowing I could have a rest the next day! I had done it - I had run 6 marathons in 6 days - fantastic!!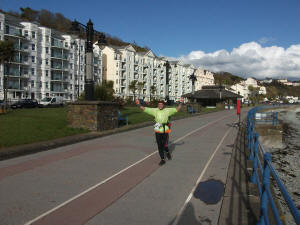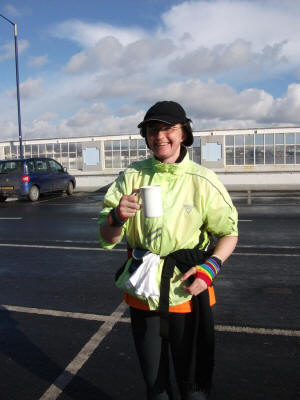 Santa Dash 2009
I will be running the Santa Dash on Tuesday 22nd December 2009 to raise money for Kemmyrk.
If you have a Santa costume, why don't you join our Kemmyrk team and dash round Douglas.
I have run the Santa Dash for years - 6 even - all but the first dash.
It is excellent fun so come and join me!
As you can see I ran it and really enjoyed it.
Photos by Ernie Runciman 22/12/09