Bethany – the Commonwealth Ultradistance Athlete

On Wednesday 16th September I arrived in Keswick with Ben Scott and 2 fellrunners. We were all representing the Isle of Man at the Commonwealth Ultradistance and Mountain Running Championships. I had qualified for the 24 hour race, with Ben also competing in it, and 6 IOM fellrunners were competing in the uphill and the uphill/downhill races. It was the inaugural championships to showcase how the four events of 24 hour race, 100km race, uphill race and uphill/downhill race, and get them into the Commonwealth Games as recognised sporting events.
After finding our accommodation, which was an outdoor centre near Keswick shared with the Scotland team, in the middle of nowhere, Ben and I registered for our event and found Fitz Park where we would be running on Thursday 17th September 2009 for 24 hours. A lovely park to run round for over 170 kilometres!
After a lovely meal it was bedtime to rest for the next 36 hours of pain and discomfort. On Thursday morning we awoke to bright sunshine and a cooked breakfast. Ben and I had brought lots of food etc with us to eat. We waited for the minibus with the Welsh team. Unfortunately it did not arrive until 9.20am, as it got lost, so we just made it to the opening ceremony. I had the enormous privilege of bearing the Manx flag, with pride. Just to be there was phenomenal – I never thought I would represent the island in any running race, let alone the Commonwealth races. After the brief ceremony and photos, the Welsh team took our gear to Fitz Park, ready for the start. Every team had a table(s) for food and water etc, in a marquee, and there was a timing chip in addition to manual lap counters, many of whom counted for 24 hours.
At 12noon precisely the 24 hour race started. I was running against 22 ladies from as far away as New Zealand, Canada and Australia. I knew the race would be tougher than Hull as everyone in this race was elite. I did not want to finish last though! I was happy to get started, knowing that on Friday afternoon I would sleep and then watch the mountain running.

The first five hours were a struggle. Everything hurt and I was lapping nobody. Infact all but 2 competitors were lapping me. I got very disillusioned and thought I would be last. After 5 hours I was sick. I had no idea why I was – very embarrassing to be sick in front of children in a playground – but then I picked up and began to fly. Ben was already flying and looking very good. The Welsh team had one runner, who finished 3rd overall, and a couple of supporters including a coach. Our IOM fellrunners helped support us until midnight but then they had to go to bed so Ben and I were by ourselves. As it went dark by 8pm the Scottish and Welsh supporters helped Ben and I. I had a mini fan club with other teams as well.
The night was cold and I put on many layers. There was jacket potatoes and soup, which I ate, from a canteen, as well as tea etc. The floodlights lit the corners of the path but in between them it was pitch black. I fell badly at about 3am in the dark, but fortunately the clothing I was wearing protected me. I was very sick at about 4am. I was living on jelly, soup and hot sweet tea. Ben was also sick and recovered very well afterwards.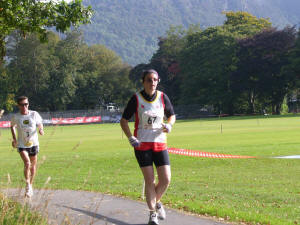 The dawn was marvellous and it was so good to be in the light again. Our support crew arrived at 10am, 2 hours to go. The welsh coach prevented me from having a sitting break and was determined I would run a PB. At 10.30am I reached 104.5 miles (168km) and it was a PB. I eventually ran 109.5 miles and finished 16th out of 22 ladies. I had not come last. The final few minutes I sprinted, like Ben did to finish with 134 miles and placed 9th out of 21 runners. It was like a carnival of running as people cheered and clapped us all, amazed at what we had done. I had several people shake my hand and call me a 'hero'. People loved the way I smiled throughout and looked as if I enjoyed it. I did enjoy it and a week later would run another one. Sharon Gaytor from England won the ladies race with 140 miles and Martin Fryer got a new Commonwealth Record of 156 miles. Amazing!
The recovery has been painful and tiring. Ben and I enjoyed watching our outstanding fellrunners in their races, knowing our race was over. The camaraderie between the countries was really good and I made several friends. It was a phenomenal experience and to represent the IOM was such an honour. I look back now on my running career and realise I have developed from a 5k funrunner to a Commonwealth Ultradistance Athlete in 5 ½ years. Amazing!
September 2009