2007 RUNNING HIGHS AND LOWS
This year has been a rollercoaster year for me in terms of running. January saw a good start with the 50-mile RNLI SOS walk round the 5 RNLI lifeboat stations in just over 13 hours with Kevin Ford (3FM Radio). We raised £500 altogether and endured gale-force conditions over the Sloc and rocky branch-strewn pavements in darkness after Peel. However it was well worth the trip on the Douglas lifeboat the next Sunday, joining the crew for a training session.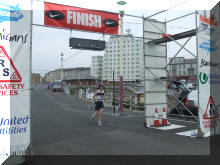 The Liverpool Half-Marathon in March was hard and slow. A fairly hilly course, I was not impressed by my time. Stomach and bowel problems were ruining my running and training and this was to culminate in a near-disaster during the Blackpool Marathon in June. I was too ill with the winter vomiting bug to take part in the Fire Station's 50-mile walk. I was gutted not to be a part of it. I also missed the Vet's Spring Handicap through stomach problems. It was not looking good.
I went back onto a wheat-free diet after Blackpool and the situation improved. The Parish Walk was "easy" this year, if you can describe getting your best friend, who is not a walker and "exercise" is a swear-word, to Rushen in his first attempt. However he did it, although painfully slowly towards the end, and I compensated for the lack of miles by wearing the 17lb backpack that I was going to carry on MOB Coast in July.
So by July I was back to getting in shape again. I was weight training at the gym where I was working and running regularly at the crack of dawn with full ultrarunning kit. MOB Coast has to be the highlight of 2007. I didn't finish it, as I have written about previously, but I learnt a lot about ultrarunning, mental and physical strength and preparation, and met some wonderful runners and crew. It has since changed the way I think about running and train. It has given me ambitions!
I ran a 7-minute PB in the IOM Marathon in August. I beat my previous course time by 18 minutes! I was delighted. It was my fastest and strongest marathon, and made even more special by knowing lots of other runners and marshals etc. They spurred me on when it got tough. I was also delight to receive 2 prizes in the presentation afterwards.
Two days after the marathon, however, my health deteriorated. I caught flu and spent the next 5 weeks taking antibiotics, eye drops and steroid nasal sprays to combat a series of bacterial infections. I have never had this happen before, and I think the explanation is that after MOB Coast and the marathon I weakened my immune system so much, it could not fight infection. However I managed to crew for MOB, although I lost 8lbs in weight.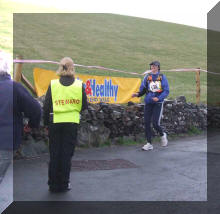 I did little running in September. I did manage the End-to-End walk, which was tough, but was pleased with my time, especially as I had no support. (That was why I had the 12lb backpack!)
By the end of September I was back training hard. From then onwards 50 miles a week was my target, although I managed 82 miles one week. Most training I do involves a 10lb backpack in order to carry the water, food and clothes I need when running 2-4hours in the middle of nowhere! I train off-road now, along the old railway trails, hills etc. I much prefer the sound of birds and country and sea smells to the noise and fumes of traffic.
By now the weight loss was a stone. I felt great and looked lean and slim. At the Western 10 I reinforced this by knocking 8 minutes off my time I did for the Northern 10 earlier in the year. I was delighted as I consider the Western 10 course hillier and harder than Northern 10.
I find cross-country tough, especially as the races are so short –4 miles! I just cannot keep up with the speed of the ladies in my race! However I use them as training runs and may even, one day, run with my 10lb backpack, if I am brave enough!
My first fell race, the Glen Roy Winter Hill League, was another learning curve and a near disaster. Going up was okay and I was strong. But flying down was scary and within moments I had gone over on the outside of my right foot, despite wearing Walsh PB Extreme fell shoes, although they don't have much support. I'll try my Mudroc shoes next time. I gingerly managed to finish the race but spent the evening applying ice and wearing a support.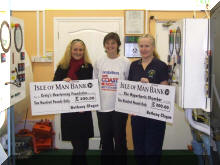 I raised £200 for the Hyperbaric Chamber and was privileged to see the chambers when I handed the money to Claire Duchars and David Downey. Claire explained how oxygen breathed in under pressure saturates every cell, speeding up the healing process for soft tissue injuries and fractures. It also treats lots of other conditions like MS, circulatory and lung problems etc. So I wrote to my GP who wrote to Dr Chalmers and an "open referral" was made for me. So after my foot injury I spoke to Claire and I have had 6 one-hour sessions in the chamber. It is a bizarre experience that takes a bit of getting used to, especially the art of "popping / clearing" your ears under changing pressures. But the bruising and swelling of my foot receded and after a week I was running on it. I then proved how effective the treatment was by running my fastest-ever half-marathon time in the Syd Quirk. I had a fantastic race, knocking 17 minutes off my PB and winning 1st in my age category. However the highlight was being awarded the "Merit Shield" – the best birthday present I could wish for!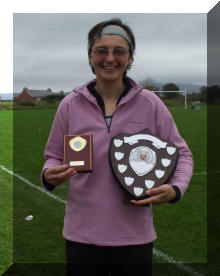 I'd like to say a big thank you to all the marshall's, timekeepers, water station officials, results collators and photographers, who have all contributed so much to the races this year. Your selfless volunteering means the races can go ahead. This is much appreciated by every runner.
So three consecutive PB's in 3 different distances in 3 months! Not a bad end to the year after a wobbly start! I am focussed, committed to training and have goals to take me into next year – the main focus in January being the Thames Path 50 Ultra. I'd like to run the Manx Mountain Marathon in March, the Night/Day marathons immediately followed by the London marathon, over the 11th/12th and 13th April, if I can get into London, (this was the reason why I started running and this is my 4th attempt at trying to get through the ballot entry), the Parish walk in June, RAW Britain in August and attempt MOB Coast again and finish in September!
I need to raise £2000 to enter RAW Britain. I will be raising money for the 'Hyperbaric Chamber' on top of that as well. If anyone has any fundraising ideas or wishes to donate money, please contact me at bethanyclague@hotmail.com. If anyone would like to volunteer for bagpacking sessions at 'Shoprite' please contact me. I'm also thinking about inviting Rory Coleman over to talk about ultrarunning and raise money for my RAW Britain attempt. Rory has run over 540 marathons, 150 ultras, holds 9 world records for running on a treadmill and organises extreme ultra races all round the World. He is a wonderful guy who always encourages everyone, has a great sense of humour and has 6 kids (not all his though!) and an equally amazing wife, who does not think he is mad!
I've discovered a wonderful website for runners – www.fetcheveryone.com. It is free and you can log your runs and races, chat with other runners etc. My name is 'Freespirit' and I'd love to have a fellow Manxrunner using the site!
See you all at future races. However, if you see a lone, strange-looking runner with water bottles coming out of her ears and a heavy backpack complete with blue flip flops, give me a wave!