1908 saw London hosting the first British Olympic Games. It was long before the days of TV or film. Picture postcards documented the Games and were sold in their thousands. The marathon route was measured at 26 miles, with 385 yards to bring the runners to the finish, at the stadium near the Franco British Exhibition, in front of the Royal Box and Queen Alexandra. This distance was standardized as the marathon distance at the IAAF Congress in Geneva on May 27, 1921.
The 1908 race went down in history as a memorable race. The course, a reasonably tough route, had many sharp corners. It started at a height of 58 metres at Windsor Castle, climbed twice to 60 metres, and finished at 10 metres at the White City. There were lots of cobblestones and the country roads between villages were dusty dirt tracks. (Also remember there were no trainers, lucozade drinks or heart rate monitors / Garmin Forerunner systems!) There were more than 100 officials on bicycles accompanying the 55 runners, with sponges provided by race marshals.
Dorando Pietri, an Italian competitor, was the first to reach the finishing stadium, much to the speculation and excitement of the massive crowd. However, the visibly distressed Dorando, was immediately surrounded by officials. After collapsing many times he crossed the finish line first. However he was judged to have been helped by others and was disqualified. Johnny Hayes, an American, crossed the line 32 seconds later but Dorando was declared the winner. However after an hour of protests from the Americans, Hayes was declared Olympic Champion. He received the gold medal and was carried on a table round the stadium, with the marathon trophy presented by the Greek Olympic Committee. He became the toast of America. Dorando did not lose out, however. Queen Alexandra presented him with a special gold cup for his amazing effort. Both athletes later enjoyed great fame and wealth as a result of the London Olympic Marathon.
MY LONDON MARATHON, April 13th 2008
This race commemorated the 1908 Olympic Marathon and the official race distance. After 3 years of applying unsuccessfully for a place through the ballot, my fourth attempt resulted in a place in the 'Bequest Draw.'
I decided, as this would be my seventh marathon, I would run in a costume. I wanted to be able to run easily and quickly so a womble or banana would not do. I opted for a pirate, and bought an outfit. As the bodice was far too big – size elephant, I think! – I stitched it to my sports bra. The skirt was cut as it was far too long and I wore my lycra running shorts underneath and over the black-and-white striped tights with skull-and-crossbones on. The tights were a little short and I knew they were likely to chafe, if not disintegrate! I had black and white cuffs, a pirate choker and a skull-and-crossbones bandana, to which I added a pirate flag and a Manx flag. I abandoned the eye patch, as my eyesight is bad enough anyway! The obligatory 'red laces for hearts' finished the attire. I also rejected the cutlass due to security issues, but a multi-coloured parrot, called 'Percy', velcro'd to my left shoulder added extra interest. I ran a mile on my treadmill in my costume to test it out, as I was too embarrassed to be seen outside in Onchan! I hoped the parrot would not peck my left cheek to pieces as my left arm moved back and forth!
I arrived in London on Friday 11th April with several Manx runners. A friend, David, accompanied me with another, Ernie, meeting us later. We found our B+B in 'Earl's Court' and then traveled to 'Excel' near 'Canary Wharf' for me to register. The organisation was superb. I collected my race no. 16995, for the blue start in zone 8, my kitbag and my timing chip. The exhibition was large with many stands – running merchandise of all kinds, charities, running organisations etc. The pasta party meal was reasonable and we listened to a race official explain everything that would happen on the Sunday before and after the race.
On Saturday Ernie showed David and I the amazing 'Fortnam & Mason' Department Store and the fascinating 'Hamley's Toy Store', (how do you get a job there?) After the V&A museum I endured a nervous night trying to block out the noise of a London street in a sauna of a minute hotel room!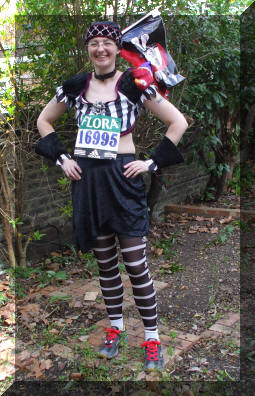 Up at 6am I got dressed as a pirate, complete with parrot, and tried to cover up with an old jacket I would discard at the start. Ernie had taken photos of me 'modelling' the costume on Saturday morning, as it was advised supporters not to come to the start. We left the hotel at 7.15am and with numerous other athletes headed to London Bridge by tube. Runners got free travel by showing their race number. At Westminster it was getting busy, although runners were heading in different directions, which was unnerving. The British Transport Police began to take an interest in the parrot! We also listened as one police officer told another not to take the spears off the Masai warriors in the race!
My friend left me at London Bridge to find a café and I headed off with hundreds of runners. It was confusing as to which platform to go to, as the trains were going to different starts – red, green and blue, and I needed blue -Blackheath. I stood waiting on platform 5 with 200 runners as a train pulled up. The doors opened to reveal runners packed like sardines inside! Nobody was going to get on! An announcement said there was another train at platform 2. I ran across to find an empty train! I got a seat and the train pulled off five minutes later without it being crowded!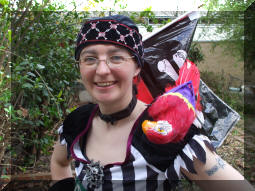 Arriving at Blackheath I followed runners to the blue start. After queuing up for half an hour for a portaloo, I gave up as the queue had hardly moved and it was 9.15am. (I know that every portaloo in South-East England was at the London Marathon – at the start or on the course at every 2 miles. There were also urinals for men.) I handed my kitbag in and found zone 8 – near the back as there are only 9 zones! I did wonder why zone 8, as I thought my predicted time of 4 hrs 30 mins was not that slow. Several runners commented about the parrot, and then talk turned to finishing times etc.
At 9.45am I could see runners running in the distance – we were off. It was warm when the sun was out, but cloudy and threatening rain. The slower runners would get wet. The zones started walking forwards. It took me 9 minutes to cross the start. The hot air balloons were magnificent, and my parrot seemed happy to bob up and down on my shoulder.
It took me about 18 miles to feel like I was running by myself and not being swept down the London streets by a huge wave of runners. It was an amazing experience and the crowds grew and grew in numbers. The noise from the spectators along the latter part of the course was incredible. I 'hi-fived' with many children. People shouted 'come on pirate-girl!' and 'look at the parrot!' The Manx flag was noticed several times too. At 2 miles I joined the ladies 'squatting' behind the portaloos, as the queue was too long. We all laughed – nowhere else would you experience that! Nobody cared – we were all runners aiming to finish the marathon. We all had the same goal – the camaraderie was great!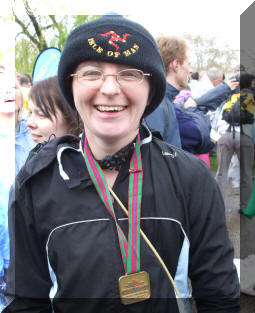 The low point was 10 miles – a torrential downpour! Everyone was soaked and the crowds seemed to thin out and were subdued. I took my glasses off as I could not see anything with them on. My parrot was bedraggled and started losing his feathers! All the tail feathers disappeared along the way too. By 12 miles the rain stopped, sun shone, crowds got bigger and I passed the amazing Masai warriors with spears and shields. 'Tower Bridge' was phenomenal – a dream come true. The noise was deafening from the spectators. I waved for the cameras and then took Percy off, as he was trying to break my jaw by then. I held him for the rest of the way. Halfway I saw Nigel, a Manx runner, coming the other way – on the other side of the road – about 10 miles ahead of me!
The Isle Of Dogs was a wonderful experience. It is very narrow and twisty, surrounded by glass skyscrapers, and full of people cheering. Several times tears ran down my cheeks as I was overcome with emotion. Filled with exhilaration and strength I passed many runners, having to weave my way through them, flags flying behind my head. There were so many drinks stations, several I passed without using as I was fine, and people had jelly babies by the bagful. Avoid 'opal fruits' – too fiddly to get the wrapper off, especially when holding a parrot! The underpasses were deafening with cries of 'oggy oggy oggy!'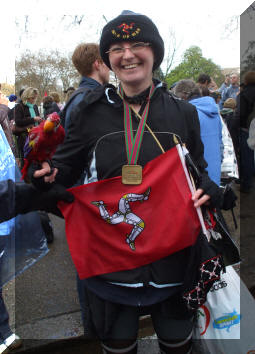 About 24 miles I hit the embankment. The rain then hit me – torrential again. But I knew the end was near. The crowds were enormous, the noise sounding like roaring trains. It drove me towards Westminster. I then was puzzled to not be running down the Mall. The course turned onto 'Birdcage Walk', and the Palace loomed ahead. Racing round in front of it, I turned into the Mall to see an amazing sight – the finish gantry! I knew a PB was likely and was delighted to finish in 4:15:48. I had gone 9 minutes quicker than the 2007 IOM Marathon, not bad with a parrot, 2 flags and stripy tights!
The organisation was superb. The chip was removed, medal awarded (once I had removed my hat with flags, which the medal lady had not seen and was making it impossible to put the medal on me). I had a photo with a wet Percy and amused the equally wet photographer. I received a goody bag and essential space blanket. Fortunately help was on hand to 1) locate the blanket, 2) open the packet whilst holding the bag and parrot, 3) try to open the blanket itself, 4) get blanket round my shoulders! Then I found my kitbag, walked stiffly down the Mall and met 2 wet friends by 'R'. They were delighted to see me. N.B. There was no mobile phone network at the finish. Arrange a meeting point in advance with friends.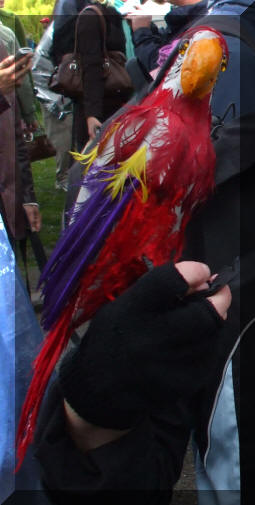 A celebratory pint in a very crowded pub was downed before the trip back to the hotel. The manager was stunned by the costume and proceeded to talk about the parrots he keeps at home.
I suffered 1 blister, lots of chafing and very sore quads. Percy is now half bald! On Monday we went back to the finish to see the Palace 'properly'. There was no sign that the marathon had taken place – no water bottles, water puddles, changing tents or 60,000 people, only a few barriers being collected. Later I flew home with several other Manx runners, all with great achievements and news.
The London Marathon was terrific. It was a privilege to be part of a celebration of running life. Each runner had a story; each runner a reason for running London. I ran to celebrate the best 4 years of my life – I have a job, I am physically and mentally well, I am happy, and I achieved my dream – to experience the sound, sights, camaraderie and challenge of the London Marathon.
SARA KILLEY MEMORIAL 50 MILE WALK 2008
(Formerly Seven Stations Challenge)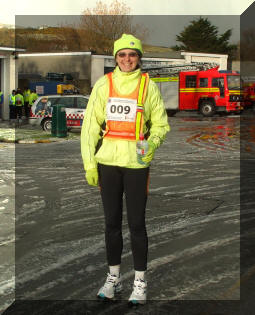 This walk, taking in the seven fire stations on the IOM, to raise money for the 'Fire Services National Benevolent Fund', was held on April 6th 2008. It starts at 8am at Port Erin Station and follows a 50-mile route taking in Castletown, Peel, Kirk Michael, Ramsey, Laxey and finishes at Douglas Fire Station. Competitors can finish at any station and it is an ideal preparatory walk for the Parish Walk in June.
I started with 121 walkers on a cold Sunday with snow melting on the ground. When I reached the top of the Ballamodha Straight it again started snowing, but as I was racewalking I was warm enough! Through St John's and Patrick the weather turned to hail, hitting me painfully in the face. I reached Peel at 11.35am, ahead of schedule, and Ernie was there to offer me more water and food as he was supporting me for the rest of the way.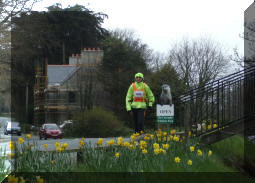 After a toilet stop in Ramsey, I was annoyed when no. 37 walker overtook me. This annoyed me intensely and from there to the finish ensued a terrific battle between Michael and myself. I never caught him but came close many times. At Laxey I was really tiring and in pain. I was there at 5.15pm, again well ahead of schedule, and was going to slow down until I heard the amazing news – you're 3rd lady! I knew I could not let any lady overtake me so I dug my heels in and went for the finish 7 miles away.
The hill down to Whitebridge was excruciating! My feet and legs were in so much pain I had to walk on the balls of my feet. Michael got ahead as I gritted my teeth and prayed! At St Ninian's a blister I knew nothing about burst on my left heel causing me terrific pain. I limped on and soon Quaterbridge appeared. Ernie got me across the main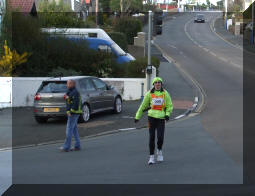 road safely and I clocked in at Douglas. It had taken me 11 hours 3 mins 6 secs to walk 50 miles. I was delighted! I averaged 4.5 miles an hour the whole way racewalking.
I finished 3rd lady and 14th overall. 122 walkers started with 40 walking the whole way, (of which 14 were ladies). The 2nd lady finished 7 mins ahead of me and the 4th lady was 30 mins behind me, although I was unaware of this during the race. It was very well organised with many firemen marshalling at towns. Even the sun was shining by the end of the afternoon – not a snowflake in sight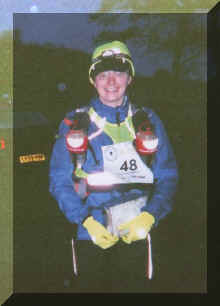 I stood on the start line in King's Meadow, Reading, with 168 ultrarunners wearing the compulsory backpacks holding water bottles and survival gear. It was on Saturday 19th January 2008 and I was about to run / walk 50 miles along the River Thames Towpath in the Thames Path 50 Ultra Race. The finish was the Holiday Inn at Shepperton. The furthest I had ever run in training was 27 miles from Ramsey to Douglas via Peel. However a twice-finisher of the Parish Walk, I knew I could at least walk it! I had managed 36 miles in 11 hours on day one of MOB Coast last July as well. Having crewed for the 'Marathon Of Britain (MOB)' I knew lots of the runners and those marshalling at the 4 checkpoints. It was like a reunion and they were delighted to see me running. The weather was perfect; no wind, no rain and cool but not cold.
Rory Coleman, the race director, gave the briefing and warned us the first 25 miles were flooded! I was a little uneasy when he said he did not want to send out 'frogmen' to look for us, and we were not to attempt to wade through 20-foot deep water!
At we started. 66 runners had signed up for the race but not started. They obviously were locals who knew about the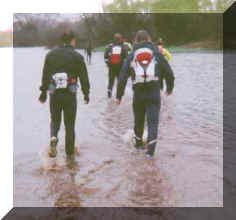 flooding! The golden rule of ultrarunning is to keep your feet dry, as wet feet = blisters! So I was shocked to find within 100 metres we were wading through freezing-cold water. The towpath just disappeared into the Thames ! This was to continue for many miles. I have never seen so much water. I had expected to be running by the Thames , not wading in it! By 'Sonning' it was waist-deep. We clung onto trees so as not to go underneath the water. It was not pleasant, infact it was very scary. At one point I thought we were crossing the River Thames, until someone pointed out the River was ¼ mile to our right, with a canal beside it with boats moored in the middle of this lake, which was infact a field, despite being under three foot of water! After seven miles the group of runners I was wading with decided we had had enough of the icy water. My feet were completely numb with cold and my waterproof socks squelched as I ran to warm my feet and expel the water. We decided to run on roads and avoid the towpath, which did not exist anymore. We ran into Henley-On-Thames navigating using our maps and turned right to checkpoint one. It was essential to be on the correct side of the River to reach the church. However the road up to it was flooded – what a surprise – but it was shallower than the towpath.
After the first checkpoint I ran with Andy who I met at MOB. I changed my socks to remove the river silt, and we ran east along roads. Somehow we reached CP2 by running along the grass verge of the A404 to Marlow. Having cars drive by at 60mph was unnerving and this was supposed to be a 'trail' race! We scrambled down an embankment and over a fence to reach the checkpoint (approx. 20 miles). Runners were coming from all directions. Everyone was following different routes. Some tried to stick to the towpath and there were stories about people swimming!
I left CP2 and ran by myself along roads to 'Maidenhead'. I train by myself so am used to being alone. Eating sandwiches, I ran at my pace, rather than try to keep up with others. At 'Maidenhead' I joined lots of runners in different groups and we ran along a muddy towpath to CP3. I began to struggle and was walking and jogging. It was a delight to see Patrick handing out diet coke, water and sweets at this checkpoint. Feeling refreshed I headed on – 30 miles done.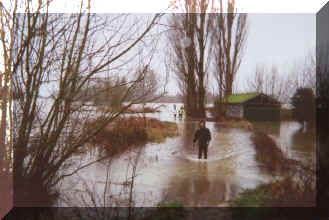 The next stage was hard. I miscalculated where I was on the map and then realised I was not as far along the towpath I thought I was. It was a real struggle, but eventually I joined a group of 4 ladies and enjoyed their company. ' Windsor Castle ' looked magnificent. We caused quite a stir as 20 of us ran across ' Windsor Bridge ' in our running kit.
The light faded at and the headtorches came out. I like running in the dark, as you seem to cover distances quickly. However it was difficult to see the mud or knee-deep puddles. When I reached CP4 Quentin, who I crewed with for MOB and was marshalling, gave me a huge hug! It really lifted my spirits and I set off determined to reach the finish – only 10 miles away. I met Andy again and we ran for 5 miles until we joined a group of walkers. We stayed with this group, as the leader, Pete, an experienced ultrarunner, knew the way off the towpath to the finish. The Hotel was elusive though. We marched quickly through Shepperton and were heading along a main road into the countryside, before a sign for the Hotel appeared. I was so relieved to be on ' Felix Lane ' and sure enough we rounded the corner of the driveway to see lights. Andy and I broke into a 'shuffle' and were greeted by cheers, applause and hooters as we reached the hotel steps. I had done it – 50 miles (approx. as I did not run along all the towpath, so am uncertain quite how far I ran!) in 10 hours 56 mins. I finished 107th out of 154 with 15 people retiring. The first finisher ran 6 hours 30 mins and the last in 17 hours. I was very pleased to receive a medal for finishing. It had been quite an experience!
After taking off my shoes and socks and washing my muddy feet, I checked into my hotel room. Lots of guests were asking us about the race and were amazed at the 50 miles we had run. All I basically did was run from one checkpoint to another! My next running goal is the London Marathon on 13th April, which should be easy after this race, although I will be dressed as a pirate!
For more information about the race, look at www.thamesultra.com
MARATHON OF BRITAIN COAST 12th-14th July 2007
This new ultrarun, organised by Rory from ambitionevents.com, was a race over 105 miles of the South Devon Coastal Footpath over 3 days. I arrived on Wed 11th July at Paignton, very nervous as previous to this I had only run 5 flat road marathons! I helped pitch the one-man pop-up tents and gradually met my fellow 19 runners as they arrived. It was soon clear that most were experienced ultrarunners!
At 8.30am we left Haytor Rocks, Dartmoor, to run East 13 miles to the Coast, along the Templar Way. My backpack weighed 17 lbs, carrying clothes, sleeping bag, food for 3 days and 4 maps. I ran with Liz, who she set the pace while I navigated. Between checkpoint 2 (CP2) and CP3 the coastal footpath encountered huge, steep, near-vertical, cliffs. It was hot and humid and I, not being a fell runner, really struggled. I nearly quit at CP3 but found the strength to finish the gruelling 36-mile first stage and arrived with Liz at the campsite at 7.30pm, 11 hours after we started, to rapturous applause. I was so tired but elated and forced myself to eat the revolting rehydrated food and retire to bed.
After a sleepless wet night Liz and I started running at 5am on day 2. This was the tough day; 44 miles of unrelenting cliffs to Bigton-on-Sea. Liz soon forged ahead with Tatty and I walked with Alex, a hockey player who was as inexperienced as I. For 15 miles we struggled tremendously with the sheer ascents and descents. We had ascended 3,500metres on day one and day two was even harder. I was desperately tired, physically and mentally, was struggling to eat and felt sick. Then a muscle in my left quad locked solid on steep ascents and it was agony! I crawled up one cliff exhausted. After 6 hours covering 15 miles Alex and I retired at CP1. I could go no further and could not cope with another steep cliff. I was gutted not to finish. But I was so proud I had covered 52 miles, 2 off-road marathons, in less than 28 hours.
The next 2 days were painful. My legs seized up and I went into mild shock and hypothermia. On Saturday I watched 8 runners finish at Plymouth Hoe, including Liz and Tatty. Only 40% finished, amazing, as the weather on day 2 was atrocious! Out of the 12 who did not finish, 10 were ultrarunners and 3 ended up in hospital. I had taken on board plenty of salt in electrolyte drinks and dioralyte and escaped cramp. My feet were brilliant, although 2 toenails are going to go. I got a nasty scar on my neck from the mapcase.
I loved every minute of the race, despite the pain and tiredness, and the friendships, as we were a big family, sweating, smelling, eating and sleeping together. It has made me stronger, fitter and more determined to complete my next ultra. Nobody realised how tough the course was and next year it will be shortened so more runners can finish! Looking back over the past 10 years of my stress-related severe illness, I am so pleased with myself for tackling this. Even Rory said, 'you are truly inspirational!' I think that can be said of all 20 of us who took part in that race; one of the toughest ultra's going! I look forward maybe to the Thames Path 50 and the Manx Mountain Marathon Challenge next year. Am I mad? Yes, definitely!
TOUGH CHALLENGE 19th NOVEMBER 2006
It was with trepidation that I walked round the course of the first ever 'Tough Challenge' in 'Wendover Woods', near 'Aylesbury', in 'Hertfordshire', on Sunday 19th November.
I had arrived in nearby Tring the previous day, after a generous friend from Liverpool had driven me there. We met with the race organiser, Rory Coleman, at the hotel. He himself has run 500 marathons and 150 ultra's. I soon realised that his words, "this race will be tough", would ring true!
At 7.30am on Sunday a frost lay on the ground and it was freezing! However it was dry and sunny and the trees in the woods were beautiful colours.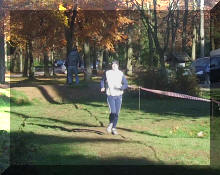 I registered and walked the one-mile course. First there was a muddy bank to negotiate and after was a muddy track, just one-person wide and covered in brambles. Then there was a steep descent down a slippery hill for 150 metres. At the bottom it levelled out on a stony path and then turned left and uphill. UPHILL! Yes, it was steep! Rory had said, "you may be able to run up it once, then you will have to walk it!" That was to be true. Even experienced runners walked up the 100-metre climb. The topsoil wore off as well, leaving slippery limestone beneath. Then there was a detour round a cone before a half-mile sloping climb up to the start / finish. I was to do 13.1 laps inside 6 hours. There were 46 of us running a 10k, half-marathon or marathon.
The claxon sounded at 9am and I pulled into the lead, as, at that stage, nobody else knew the course. After 200 metres 2 men sprinted past and downhill. I took it easy, as I did not want to fall or injure myself.
The first 3 laps went okay – about 13 minutes each lap. Then my calf muscles began to burn and it was agony walking up the steep hill. We all encouraged each other. The camaraderie was brilliant as we were not out to race, only to challenge ourselves.
I ran / walked, chatting often to other struggling runners, and then I was on my final lap. Rory yelled, "go for a PB!" "What, on these legs!" I replied. Then I finished – 3 hours 12 minutes – not my fastest race but the euphoria was amazing. I had beaten the punishing course! I got my finisher's T-shirt and chatted to Rory about finishing our Parish Walk twice.
My quads are now in agony, 2 days later! But once recovered I will be in hard training. Rory sent me 2 ultrarunning manuals, as my next big race is Tring2Town, a 45-mile run / walk along the Grand Union Canal to London. I cannot wait for my first ultra, and for tough challenge 2. Mad? No, absolutely barking!!
TOUGH CHALLENGE 2 ON 4th MARCH 2007
On Sunday 4th March 2007 I found myself again lining up at 9am for the start of another Tough Challenge race. The first half-marathon x-country race was back in November, (Wendover), up and down very steep hills. This was to prove very different, and slightly easier, with mud replacing the hills. It took place in Weald Park, Essex, not far from London.
The first concern was the water we had to run through. The start/finish was a marquee by a small lake. However the 1-mile course started with the extra 0.1 mile and finished with a section of this lake. We had no idea how deep it was as the water was muddy and brown. It turned out to be thigh deep with a very slippery bank to get up.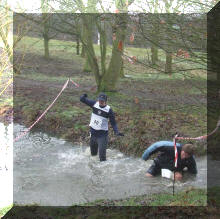 About 60 of us took part, mostly locals. Some were running 10k, others half and some the full marathon. The time limit was 6 hours. I had opted for the half-marathon. We started on a dry but breezy morning and raced through the freezing cold water. I did this 14 times! I staggered up the bank with sodden shoes and heavy waterlogged trousers that almost fell down, and thought, 'why am I doing this?' The next part was mud that got thicker and stickier as the 13 laps went by. Then it was up a slope onto a field. Throughout the course the terrain was bumpy at first, however after 50 people had run round 6 times, a muddy track to follow developed. Across the field and back into trees and more mud. Across 2 ditches and back into a field, that got boggier and wetter with each lap. Up a hill and down the other side and the water dip was back in sight. Through the water and another lap was done. I miscounted and was delighted to hear the 3 laps remaining were infact only 2. It was about this time when I fell face first into mud just before the water dip. At least I could wash the mud off! I then took another tumble into a muddy ditch about 5 minutes later. I was not running – I was ice-skating it was so slippery in the mud.
I finished in 2 hours 42 minutes; about 25 minutes faster than Tough Challenge 1. I was really pleased with the time, despite being lapped twice by the ladies winner in my race. Again the camaraderie in the latter stages on the race kept me going. I received a finisher's medal and a hug from Rory, the race director. He was very impressed that I had traveled from the IOM to take part! But it is the challenge I like. Pushing yourself to the limit to see what you are capable of. I loved it!
MARATHON OF BRITAIN (MOB) 2007
The 'MOB' is an ultrarun of 175 miles over 6 days from Malvern to Nottingham across fields, hills, towpaths and roads. The stages are: 16miles, 29, 31, 33, 56 and finally 11miles. Runners carry everything for the 6 days, except tents. They are supplied with water (hot and cold), roadbook (OS maps) to navigate from and given breakfast and a hot dinner. It is about endurance, stamina, pain and navigation.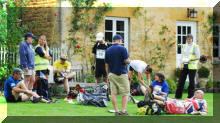 This year 40 runners competed with 15 supporting crew; including a cook, a doctor, a podiatrist, and a trainee vicar, because for many MOB is a spiritual experience. I crewed as I could not afford the £850 entry fee. I knew some crew from MOB Coast like Mike (village logistics) and Quentin (Q). Also Rory Coleman was race director and Mark Pinnock was 'deputy'. Both are experienced ultrarunners. Jo Kilkenny was also running. She was first lady in MOB Coast and MOS (Marathon of Spain). I also met our Gareth Evans at the IOM Marathon and we realised we would both be at MOB 2007 as he was running it! It started on September 1st, when we arrived at Croombe Landscape Park. The first 16 miles was run on September 2nd. It finished on Friday 7th September with a gala dinner and a good night's sleep at the posh 'Britannia Hotel, Nottingham'.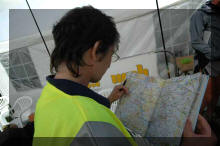 As crew it was my job to help move the tented village along the course and look after runners at checkpoints. Runners and crew all slept in tents, or vans, in fields at the end of each stage. Each day it took the crew 2 ½ hours to take down 47 single pop-up tents, 3 eight-man tents and 2 large marquees. Then we would travel to the next stage finish and spend 3 hours erecting the village. It was tough, sweaty, physical work. There was a cold shower, that we put up, on some days, but I went without a wash from Saturday 2nd to Thursday 6th September . The crew smelt worse than the runners! The funniest moment was when Q opened the pop-up 'exploding' single tent on his 'privates' and lay doubled up on the ground in agony for 5 minutes! During the week I laughed a lot. I managed to fall flat on my face in front of everyone when I tripped over a tent guide rope! I got lots of laughter and applause for that! The other funny moment was when 4 single tents that were pegged down front and back, took off at Stratford Racecourse. 3 cleared one fence but 1 was blown over a second fence and Alan (crew) spent minutes chasing it. It flew about 10 metres above him in circles and he was laughing so much, as we all were, that it nearly got away!
The single tents were like fridges, though, as they were single skin. The main problem was the condensation inside. By morning you were lying in a puddle and you washed your hair when you sat up on the roof. I got very little sleep all week. I think about 12 hours total in 6 days! I was so cold and was wearing 6 layers, a sleeping bag and a space blanket. Also I kept coughing a lot because of the cold air and I got told off on the 3rd night for doing so. That meant I had to sit up when I started coughing, and then sleep was impossible. The lack of sleep fuelled my high mood and I was hyperactive and constantly talking the entire week! The crew must have thought I was mad. Mind you, to crew you need to be! Gill was paired up with me at the checkpoints, and she enjoyed my company, but said if there were two 'Bethany's' at a checkpoint, it would be manic! Gill was lovely. She ran MOB 2004 and has crewed ever since. We had a lot in common and I navigated while she drove to our checkpoints, handing out water, sweets, kind words and smiles for the runners.
Gareth, a fellow IOM Vets and fellrunner, finished the MOB. I was privileged to run the final 5 miles along Beeston Canal with him, to the finish at Nottingham Castle, and crossed the line holding his hand. It was a fantastic achievement for him. He tore his calf muscle during the IOM marathon. I later found out he has no cartilage in his knees due to playing rugby. By day 3 his right knee was swollen and I was wrapping it in a cold wet T-shirt to reduce the swelling. By day 4 he had a swollen right ankle that was very painful. I enjoyed looking after him after each run, bringing him hot drinks and giving encouragement.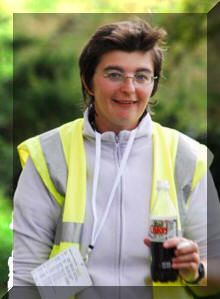 The 56-mile day started at 4.30am, for the slower runners, in the dark on Thursday. Stuart, the overall winner, arrived at Long Eaton, about 9pm. I found out that Gareth was going to drop out at checkpoint 4. Fortunately 2 runners told him to walk with them and he joined them. Paddy was magnificent at keeping Gareth going. They finally arrived at the stage finish at 5.30am on Friday morning, to be met by me. I stayed up all night to be there when Gareth finished, and I looked after him until 6am and then lay down myself for an hour before breakfast. Some of the runners were in agony with dreadful feet. Rory and his wife Sarah were excellent in providing basic medical support and I felt like a nurse. It was like a scene from MASH! There were people suffering everywhere, but we coped and everyone was fine after rest, soup and hot tea. My ibuprofen and co-codamol painkillers and dioralyte sachets proved essential, and even my space blanket, as some runners became very cold.
The Gala dinner on Friday night was excellent. I could not eat anything, despite only having had breakfast on Friday, as I was so tired, as I had not slept for 40 hours! There were speeches and prizes. Rory told us that MOB 2008 would be different. 'Naseba' – an American company that organises global conferences - is taking over ambitionevents.com and organising ultras called RAW – Run Around the World series. There will be RAW Africa, RAW Mexico etc. RAW Britain will be approx. 150 miles over 5 days from Stratford to London in August 2008. However the cost will go up to approx £1,500! If I can't afford to run it, I will crew again. I would like to crew for all the RAW races. But a lot of us are not happy with the proposed changes. MOB was special due to the camaraderie. We were a little family in another World. These RAW events will be larger and money-based. We will have to wait and see if it works. Rory will still be around but not in charge, and it will be managed by non-runners. See for yourself what happens. Go to www.ambitionevents.com.
I took the photo of Gareth at Checkpoint 3 on the first day (stage one). He is the first, and now last, IOM runner to complete the MOB! I only wish I had been able to run the 175 miles with him. If anyone would like to sponsor me, for the registration fee and travel, in entering these ultra's – please do so! Ultrarunning is special. It challenges you physically, mentally and emotionally, whether you run or crew. Can you push yourself to your limit? Why not discover your true self? Have a go! The rewards are endless and special. Everyone involved is special.